New Becca Feeken Candlewick Classics Collection by Spellbinders
November 07, 2019
Hi everyone, I have been invited by Spellbinders to try the new
Candlewick Classics Collection
by Becca Feeken and I'm sharing 3 card ideas and a short video to show you how these projects comes to live!
Inspired by
Candlewick embroidery
design, this is a stunning collection of basic shape dies that will create an elegant pattern on the paper with hints of dotted motifs and knots.
The collection also included a doily and a doily border die set, perfect additions to create elegant and professional-looking papercraft projects.
Candlewick Inspired Die Collection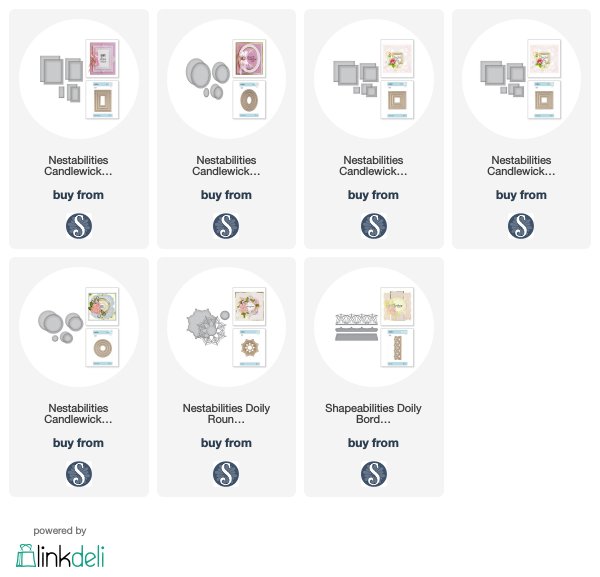 Watch 2 minutes video to see these projects come to live!
So I was tempted to use only white for my cards today but I thought that using bright colors would allow me to show you the die-cut shapes a lot better.
Paper Piecing and Inlaid Die Cuts
This is harder to explain than to do!
I just did a little bit of paper piecing using
Doily Round Etched dies
so instead of discarding negative die cuts, I used them as part of the design.
I started by simply die cutting a doily shaped window on the center of a 5-1/4 x 5 1/4 inches piece of white cardstock and behind it, I glued a solid piece of pink cardstock.
Then, I die cut two doilies our of Blue Lagoon cardstock and I glued one of them on the aperture aligning the edges with the shaped window.
Using scissors, I cut the outer border of the other blue doily to get a smaller die-cut and I kept it to aside.

Next, I die cut a doily out of yellow cardstock. I used some of the negative die cuts to inlaid them around the circle part on the center of the doily ( plus I kept the Yellow die cut doily for my next project)
As I wanted to add another color, I die cut a doily out of green cardstock. I only used the negative die cuts to fill in with those pieces the green areas you can see in the picture of the card.
To finish this card, I glued the smaller teal doily over and I
embellish with

Fashion Gold Dots

.
I also stamped the sentiments from

Inside and Out

stamp set using

Black Licorice ink

by Fun Stampers Journey. What a gorgeous black ink!
Layered Die Cuts
The new Candlewick dies design by Becca Feeken are good to create cards for any occasion.
I then used the yellow doily I got left from my first project above and I glued it behind the window. Behind it, I then glued a green piece of cardstock.


Next , I die cut out of Blue Lagoon cardstock an oval frame using the medium oval die from
Oval Candlewick Etched Dies
and I adhered it over the center of the window using double-sided tape.
I also stamped the sentiment
from the stamp set included in the

Spellbinders November Kit of the month
using
Black Licorice ink
.
To embellish I used
Fashion Gold Dots
.
Background Patterned Panel
This is something I really like to do when I have die sets such as
Doily Round Etched dies
.
I simply die cut two doilies out of Blue Lagoon cardstock and I glued them on an A2 white piece.
I trimmed the edges that were picking out the white piece of cardstock and I used those small offcuts to complete the background. Then to get a perfect size and also sharp edges, I used the medium rectangle die from
Candlewick Rectangle Etched Dies
to die cut this piece
When running the pice through the die cutting machine everything gets nicely flatten and this provides a beautiful finishing.
To add more interest to this very simple card design, I cut a piece of Blue Lagoon card using the medium rectangle die with the candlewick pattern over the edge and the outer frame die.
I glued the piece with the die-cut pattern over and then I adhered them on a C6 card base.
That's all for today, I hope you enjoy these projects and ideas to get crafty with Becca Feeken designs.
Hugs from Scotland.
x
Bibi
Supplies List
Just a note to let you know that when you buy through the links in my blog
I get a small commission at no extra cost to you.